Windsurfing has gone to another dimension - flying free of the water's surface. Foiling is new and the Skyscape is newly built for it. Sails for foil designs are best light, with low end grunt and superior upwind character. The Skyscape design package includes 5 battens with 3 cams and a low outline configuration. Skyscape sail profile exhibits pronounced forward orientation - augmenting the low-end grunt needed in light winds to pop up and go. Softer & more forward-oriented batten systems with a slightly firmer leech perfectly match the more front-foot oriented stance associated with foiling. The Skyscape 2018 is pure foil efficiency.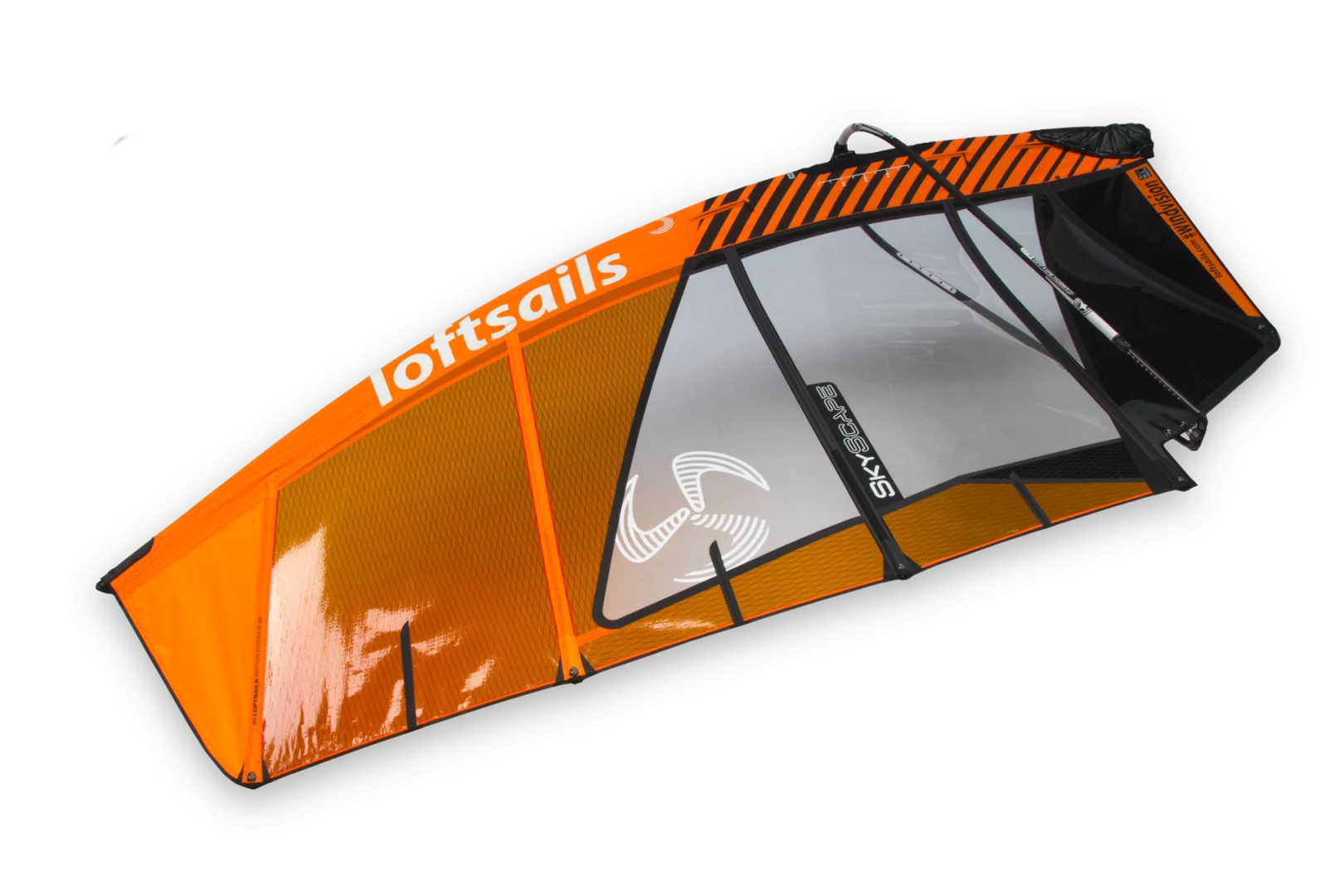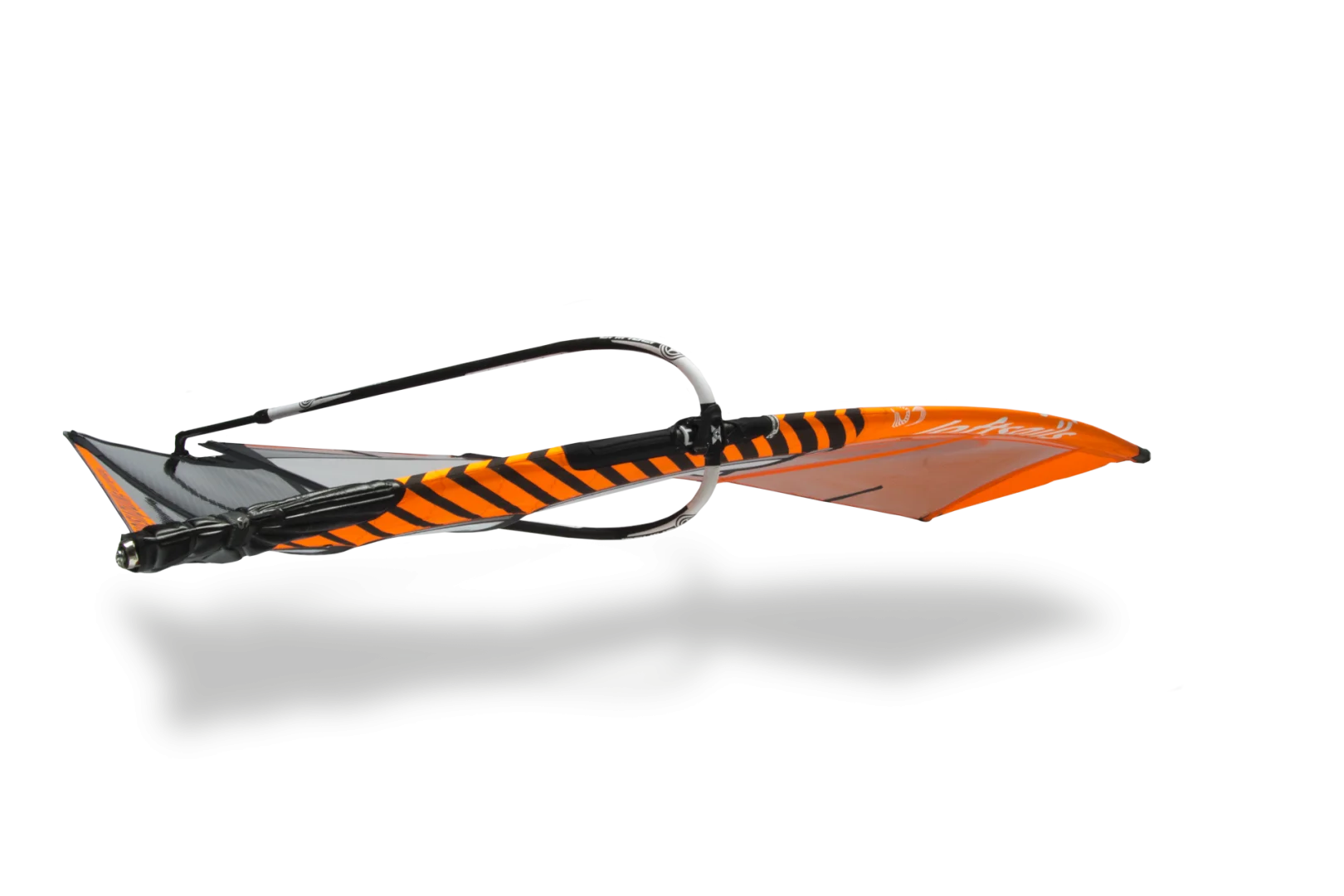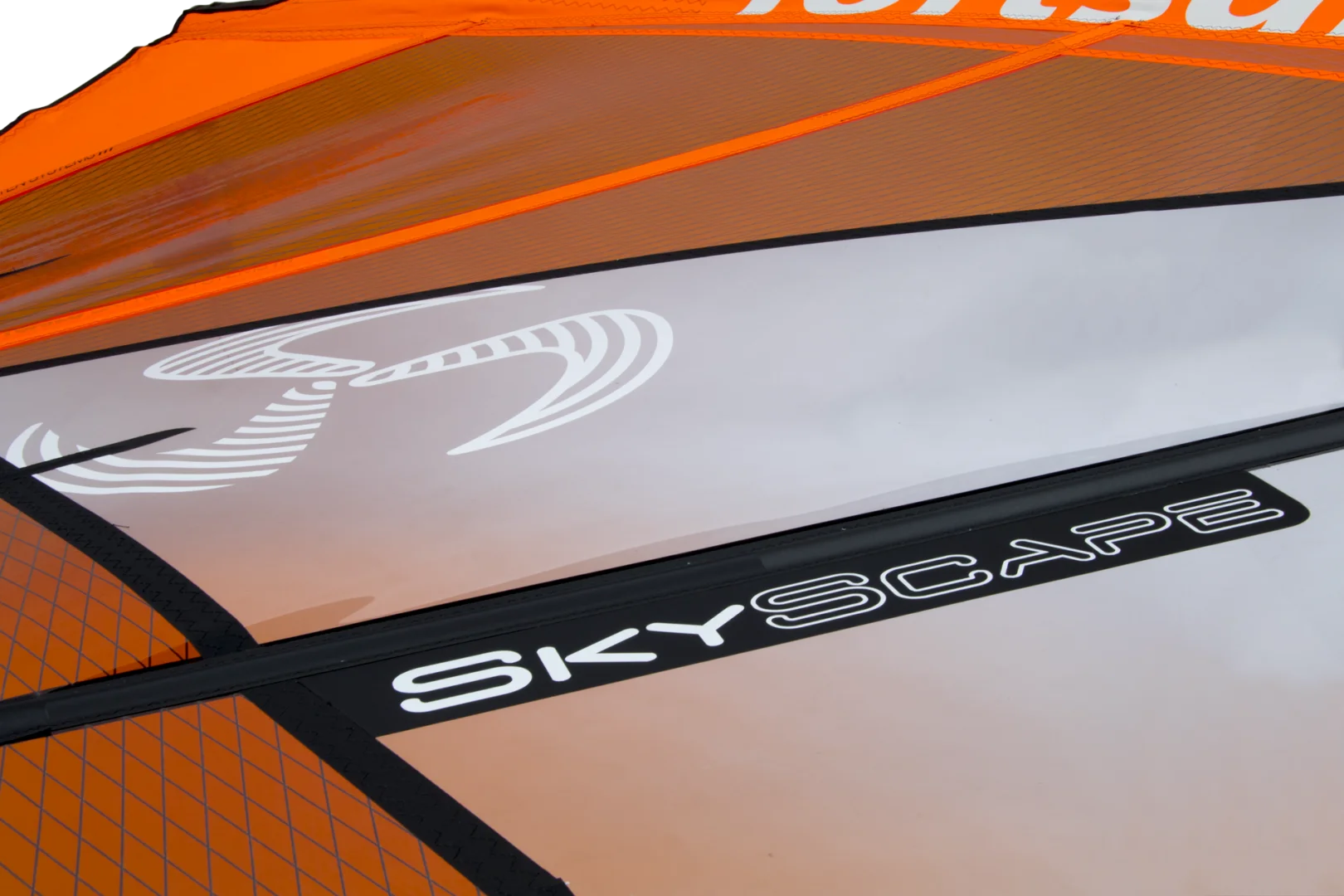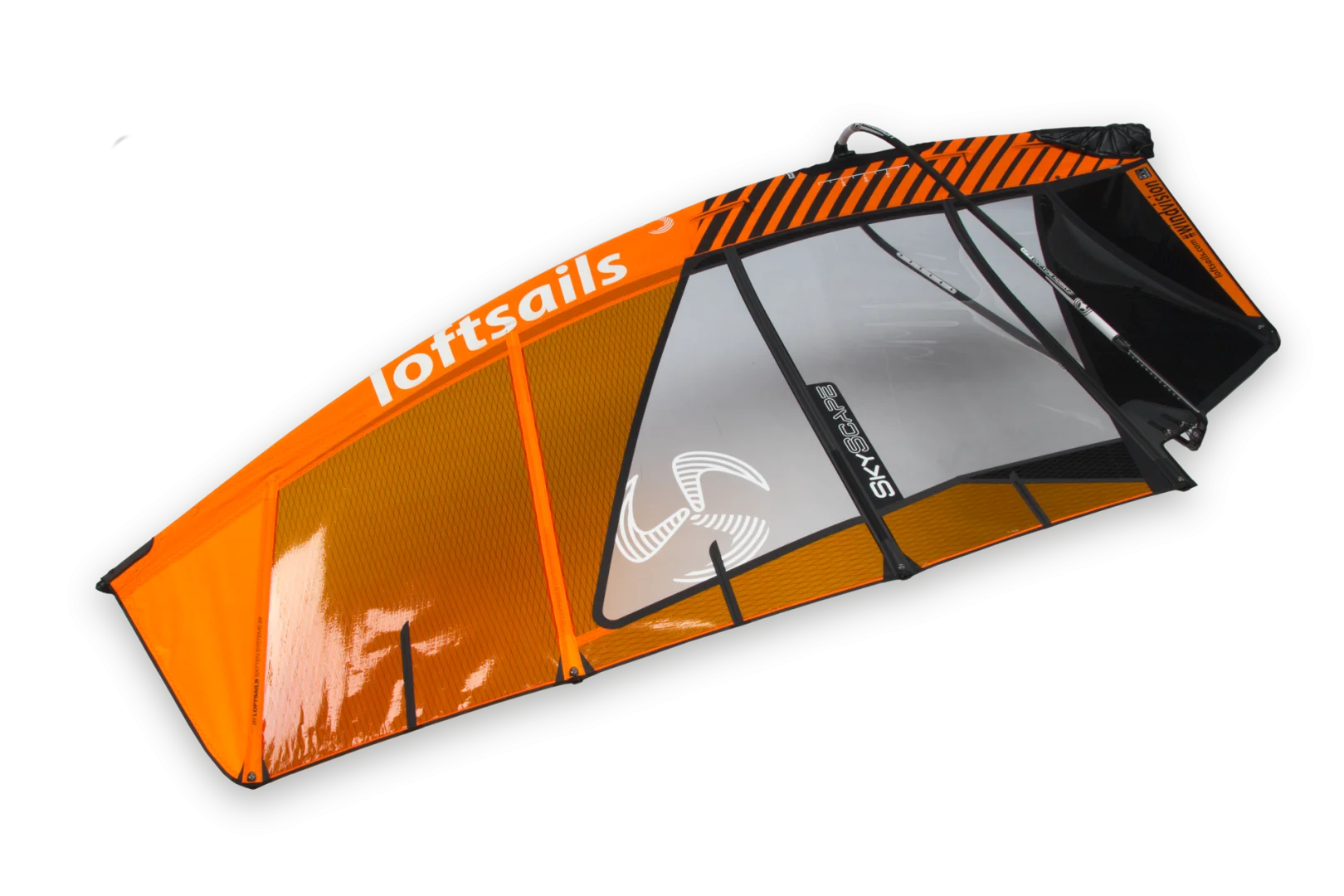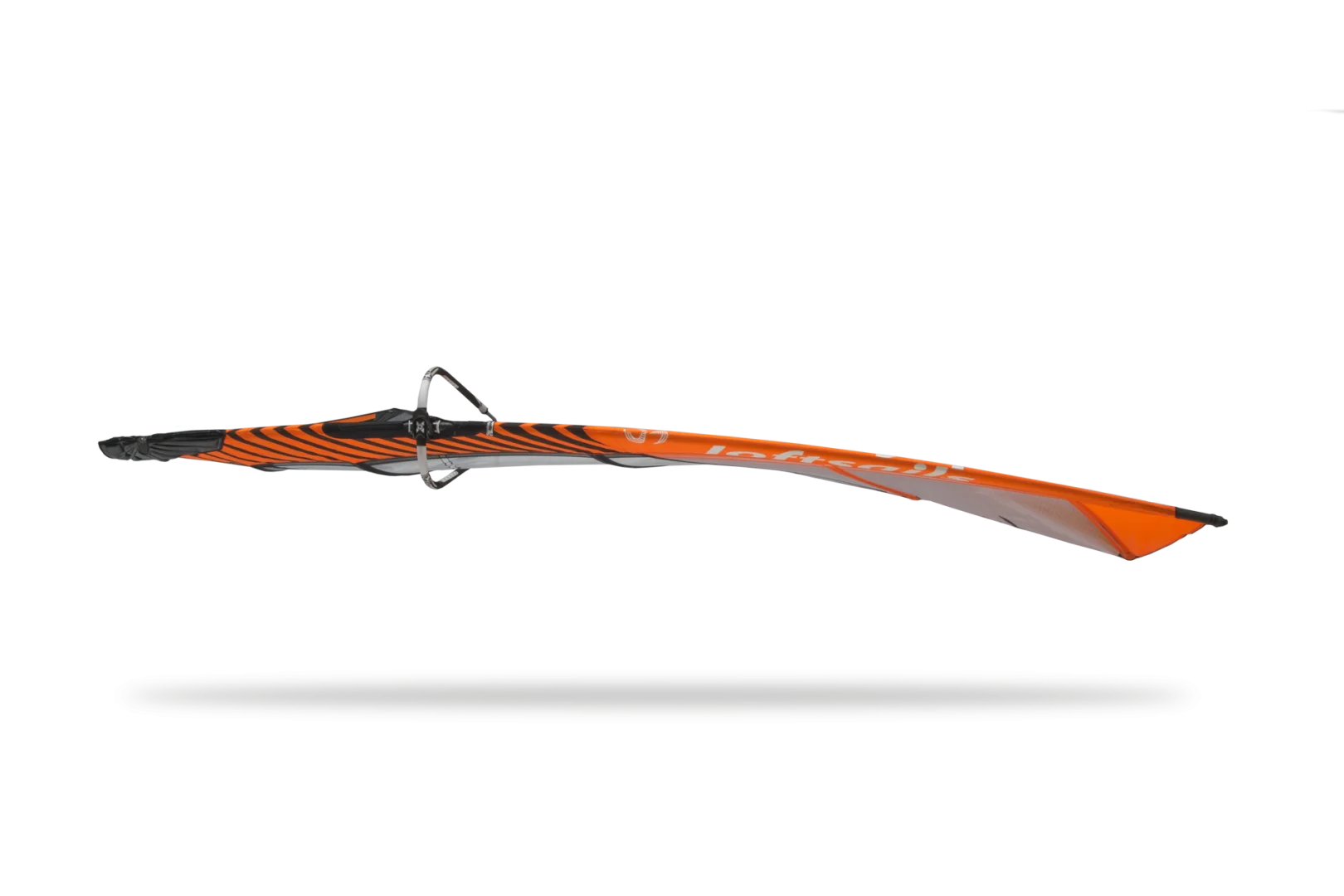 Features
& Benefits
Unique SDM and RDM mast compatibility. Tekcam2 Large (installed) and Reduced (in sailbag) included with all sizes.
Metallic cam interfaces – MCIs eliminate contact point degradation characteristic of cam designs without MCIs.
Full tubed batten structure – solid stability for the upper end of the wind range.
Xply batten pockets that alternate sail sides... using similar material for the batten pocket as the body material minimizes the asymmetric character of applied batten pockets. Pockets made with laminates allow the batten to be centered. These features combine to maintain rotation symmetry. In contrast, same-side dacron pockets promote assymetrical rotation.
Streamlined neoprene boom cutout with dual zippers – limits water entry into the mast sleeve for fast recovery.
Blade mast pocket construction - pocket sides under the tack pulley webbings for rotation ease, clean mast pocket and longevity.
Kevlar strip applications - profile definition, mast pocket stability and longevity.
Tekcam2 camber inducer design - easy rotation and gentle to your mast.
Click to reveal features.
Design Testimonial
By Fernando Martínez - Windscape SL

"The Skyscape is the first ever sail specifically design for Foiling from Loftsails. The Skyscape is a 5
batten / 3 Cam Sail, its is stable at high speeds or gusty winds but its also powerful and soft to
pump into planning in lighter winds, allowing a great foiling experience and a huge wind Range."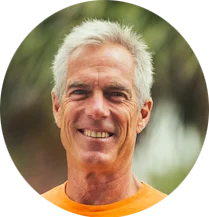 Design Testimonial
By Monty Spindler

"Easy, accessible performance foiling
Frequently asked questions?
Find the answers of your Skyscape 2018 questions
Just click the box below.
I can see minor colour inconsistancy in the coloured monofilm material, is this a quality problem?
Loftsails using high quality Dimension Polyant films considered as a leading film manufacturer. The BI-PLY colored monofilm are two films laminated together. During production there is a large temperature difference between the two films at the lamination point. This causes the top film (film with color adhesive) to slightly shrink and the bottom film does not shrink at the same rate. This can cause "a slight minimal wave or impression" in the fabric. There is no concern on laminate quality.
What does 1 Year Unconditional + 1 Year Conditional warranty cover?
Warranty is valid 2 years after date of purchase. When making a warranty claim in the first year the product is unconditionally warranted. When making a warranty claim in the 2nd year the product must have clearly suffered from a manufacturer error.
When unrolling my sail some battens are looking pre-curved?
All windsurfing sails with battens experience batten bending when rolling for transport. The battens will bend because of the curves cut into the sail to produce profile. Loftsails are rolled right side up, this flexes the battens as if the sail is on starboard tack. Battens are made from polyester, carbon and resin. They remember their being curved, which gives the sail a pre-disposition to be on starboard tack. This results in the sail having a preference to be on starboard tack. This asymmetric character is normally not an issue. Rolling the sail port side up will tend to bend the battens in the opposite direction which can minimize this asymmetric character.
Why are there small wrinkels visible in the footpanel of my sail?
Monty comments: Wrinkles in the foot panel are common to my designs! There is always alot of profile worked into the bottom of the vertical seam, I have tried to remove the wrinkles from the lower panel but this results in flatter shapes that do improve performance. Many of our sails do not show such foot panel wrinkles, however unfortunately one could say they are typical of my designs.
What can I do to improve the cam rotation of my Skyscape sail?
The Skyscape has alot of new thinking- new curves with five battens and three cams. This new design concept appears to have as a consequence a bit firmer rotation. Rotation will be more firm when insufficient downhaul tension is applied or when sdm masts are used in combination with very firm batten tension. Removal of the Metallic Camber Interface is an easy way to add a bit of cam space inside the mast pocket. For the Skyscape we recommend RDM masts in a way to improve camber rotation.